Kitchen sinks are an essential part of any home, And keeping them clean and sparkling is key to maintaining a healthy kitchen space. Cleaning ceramic kitchen sinks can seem like a chore but with the right products and supplies, It doesn't have to be. Nobody likes having a dirty kitchen sink. Not only does it look disgusting, But it can also be unhygienic. It's important to clean your ceramic kitchen sinks regularly in order to keep them looking and smelling fresh. Ceramic sinks are a popular choice for many kitchens. However, cleaning them correctly is key to keeping them in good condition. We will show you how to clean ceramic sinks in your kitchen quickly and effectively.
What Are Ceramic Sinks In the Kitchen?
Ceramic sinks in kitchens are a popular choice due to their durability and low maintenance. They are made of a clay-based material that is fired at high temperatures to create a hard, nonporous surface. This makes them resistant to scratching, staining, And heat damage. They also come in a variety of colors, shapes, And sizes to suit any kitchen design. Ceramic kitchen sinks are easy to clean with soap and water, And they often have an enamel coating that helps protect the sink from wear and tear. Additionally, Sinks can last for many years if properly maintained.
When To Clean A Ceramic Sink In a Kitchen
Cleaning a ceramic sink in the kitchen should be done regularly to maintain its appearance and prevent any damage. Depending on how often you use the sink, It should be cleaned at least once a week.
To clean the sink, Start by using a soft cloth or sponge with warm soapy water to wipe away any dirt or debris. Rinse with cold water and dry with a soft cloth. If there are any stubborn stains or spots, use baking soda and white vinegar to create a paste. Rub this paste onto the affected area and leave for 10 minutes before rinsing off with warm water.
For tougher stains like rust or limescale, You can use an abrasive cleaner such as steel wool or an abrasive pad. Be sure to rinse thoroughly after using these products and avoid using them too frequently as they can damage the surface of the sink over time.
The Benefit Of Ceramic Sinks Clean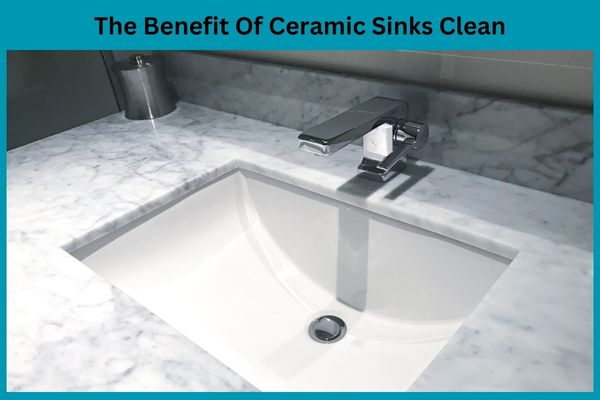 Ceramic sinks offer a range of benefits when it comes to cleanliness and maintenance. Homeowners who are looking for easy-to-clean ceramic kitchen sinks that are both attractive and durable should strongly consider a ceramic option.
The material itself is non-porous, meaning that it won't absorb liquids or stains like other materials can. This allows the surface to wipe down and sanitized with ease, keeping your kitchen free from bacteria and dirt buildup.
Ceramic sinks are also resistant to scratches which reduces the need for frequent repairs or replacements due to wear and tear. The material itself is impervious to many types of cleaning chemicals, making it easy to get rid of any tough stains without damaging or discoloring the surface.
Things You Will Need
Baking Soda
Ammonia
Lemon
Vinegar
Hot Water
Dish Detergent
Toothbrush
Sponge
Towel/Rag
Clean Ceramic Sinks In the Kitchen
Dampen Your Sink
Dampening your ceramic sink is easy. All you need is a soft sponge or cloth and some warm water. Start by lightly soaking the surface with warm water, Then use a damp cloth or sponge to remove any built-up dirt and residue. Be sure to rinse off any soap or cleaner used when finished cleaning so that no residue will leave behind on the surface of your sink. Once rinsed, dry the surface with a clean towel or cloth to prevent water spots from forming on your ceramic sink.
Add Hot Water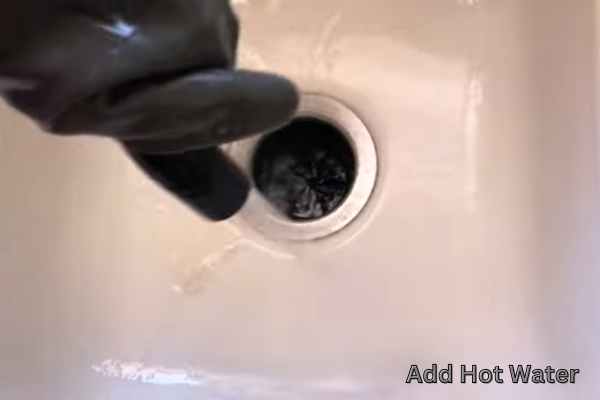 Adding hot water to your ceramic sink cleaning routine can help make the process easier. The heat from the hot water helps break down grease and grime that have built up over time so you don't have to scrub as hard. Additionally, Hot water helps dissolve soap scum for a more thorough cleaning. It's important to note that using too much or overly hot water can damage your sink by causing warping or cracking in the material, So be sure not to go overboard with the temperature or amount of hot water used when cleaning your ceramic sink.
Use Baking Soda
Using baking soda is one of the best and most affordable ways to clean ceramic sinks. This natural, safe, And effective cleaning product can safely use on a variety of surfaces including sinks. Not only is it an environmentally friendly option but it's also one of the easiest and cheapest ways to keep your sink looking sparkling clean!
Baking soda is a great way to remove dirt, grime, stains, bacteria, And odors from ceramic sinks. To clean a ceramic sink with baking soda you will need baking soda and water or white vinegar. Mix together 1/2 cup of water or vinegar with 3 tablespoons of baking soda until it forms a paste-like consistency. Then apply the paste over the entire surface area of the sink using a cloth or sponge in circular motions.
Use Lemon Juice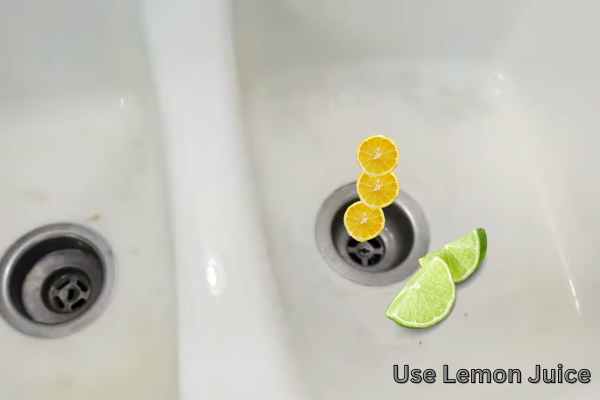 Lemon juice can use to clean ceramic sinks and make them sparkle with a natural, chemical-free process. Not only is this DIY cleaner cost-effective, But it also utilizes the natural acids in lemon juice to break down stubborn dirt and grime. To effectively clean ceramic sinks, simply fill a spray bottle with freshly squeezed lemon juice or combine equal parts of lemon juice and water.
Shake the bottle well before using it and spray liberally on the sink surface. Allow the solution to sit for several minutes before scrubbing with a sponge or brush. The acidity of the lemon will help lift away dirt and stains without leaving scratches behind. Rinse thoroughly afterward with warm water for an amazing shine that's safe for use in your home!
Cleaning With Vinegar
Cleaning with vinegar is one of the most versatile, affordable, And natural ways to keep your home clean. With a few common household ingredients, You can make effective cleaning solutions for many surfaces such as sinks. Vinegar can use to remove hard water deposits from ceramic sinks, deodorize them, And leave behind a shiny finish.
To get started with vinegar-based cleaners for your ceramic sink, mix together equal parts white vinegar and warm water in a bowl or spray bottle. For heavier stains or build-up on your sink basin or drain area, apply the mixture directly to the affected areas with a non-scratch scrubbing pad or cloth. Allow the solution to sit for 5 minutes before scrubbing gently in circular motions until all grime has remove. Rinse away the residue with warm water then dry thoroughly with a soft cloth or towel.
Cleaning With Ammonia
Cleaning with ammonia is a great way to get the toughest messes off ceramic sinks. Ammonia is a strong cleaning agent that can easily break down dirt and grime, leaving surfaces sparkling clean. If you're looking for an effective way to clean ceramic sinks, Using ammonia is an excellent choice.
When using ammonia for cleaning sinks, It's important to be aware of its strength and use it carefully. Start by mixing one part of warm water with two parts of ammonia in a bucket. Wearing gloves, dampen a sponge or cloth into the mixture and begin scrubbing away any stuck-on dirt or grime from the sink's surface. For particularly tough stains, allow the solution to sit on the stain before scrubbing it away thoroughly this will help loosen up stubborn residue more effectively.
Use A Detergent
Using a detergent to clean ceramic sinks effectively keeps your sink looking shiny and new. Whether your sink has stains from frequent use or simply needs a good cleaning, using a detergent can help you get the job done quickly and easily. Most of the time, all that is required for effective cleaning is just a little bit of soap and water.
Detergents are especially beneficial for removing stubborn stains like coffee, tea, or food residue from ceramic surfaces. To begin cleaning with detergent, fill up a bucket with warm water and add in some dishwashing liquid or another type of mild detergent. Using a soft cloth or sponge soaked in the solution, scrub away any stains on the ceramic surface until they are gone. Then rinse off the remaining soap suds with clean water and dry off the area with a towel or cloth.
Use A Toothbrush
Using a toothbrush on your ceramic sink is effective because the bristles are designed to reach deep into any crevices or grooves, making sure every corner of the sink is thoroughly cleaned. Start by spraying your chosen cleaning solution onto the entire surface of the sink. Using a dampened toothbrush, gently scrub in circular motions across each section of the surface until it's clean. Don't forget to scrub around all edges and handles too!
Cleaning With Sponge
Sponges are incredibly versatile pieces of equipment that can use on nearly any surface. When it comes time to clean ceramic sinks, sponges offer several key benefits: they can easily remove stuck-on food particles without scratching delicate surfaces. They're gentle enough for daily use. And they absorb water quickly so that you won't end up with puddles of standing water in your sink after cleaning.
Use A Tartar
Tartar is made from baking soda and cream of tartar. This combination creates a natural, non-toxic paste that works wonders on sinks. Just mix equal parts of both ingredients together in a bowl until it forms a thick paste – then apply it directly onto the surface of the sink. Use an old rag or sponge to spread the paste evenly across the entire area, making sure to get into all those nooks and crannies around the edges where dirt and grime build up easily.
Cleaning With Pumice Stone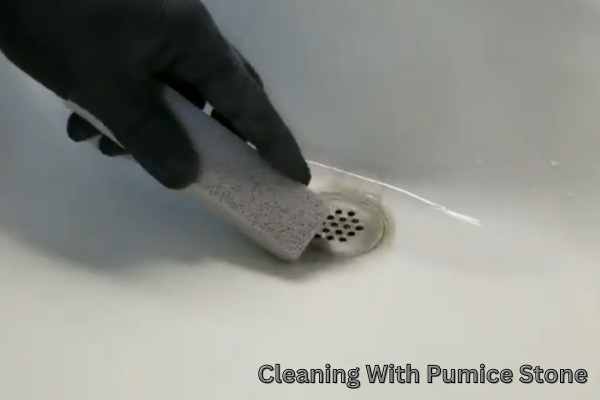 Cleaning with a pumice stone is becoming increasingly popular as an effective and eco-friendly way to clean ceramic sinks. Pumice stones are hard, porous rocks that have use for centuries to scour away tough dirt and grime. It's a chemical-free alternative to harsh cleaning products, making it ideal for those looking for an all-natural way to keep their sinks in tip-top shape.
When using a pumice stone on your sink. Make sure you're wearing protective gloves and a face mask. Wet the stone first before rubbing it gently over the affected area of the sink in circular motions until the dirt has been removed. Be careful not to apply too much pressure as this can cause scratches or damage to the surface of your ceramic sink. Rinse off any remaining residue with warm water and then buff dry with a soft cloth.
Cleaning With Bar Keeper
Cleaning with Bar Keeper is a great way to keep your ceramic sink clean. This multipurpose cleaner can use on stainless steel, porcelain, And other surfaces for a thorough cleaning. It has a number of active ingredients that make it an effective cleaner for tough stains and odors in countertops, sinks, And more.
When using Bar Keepers to clean ceramic sinks. It is important to read the directions thoroughly first. A small amount of the product should spray onto the surface. Then gently scrubbed with a soft cloth or sponge until the stain is removed. Rinse well after cleaning to ensure that all residue is gone from the surface. For stubborn stains, Use steel wool or an abrasive pad before rinsing away any remaining dirt and debris.
Wipe Ceramic Sinks With Towel/Woof
After Cleaning wiping them down with a towel woof is an effective way of doing this. Towel woofs are made from compressed fibers that provide superior absorbency for cleaning. When wet, The fibers act like millions of tiny sponges that trap dirt and grime, leaving surfaces squeaky clean. In addition to their powerful absorption capabilities, towel woofs are also highly durable and long-lasting making them ideal for use on ceramic sinks.
Removing Stains From The Ceramic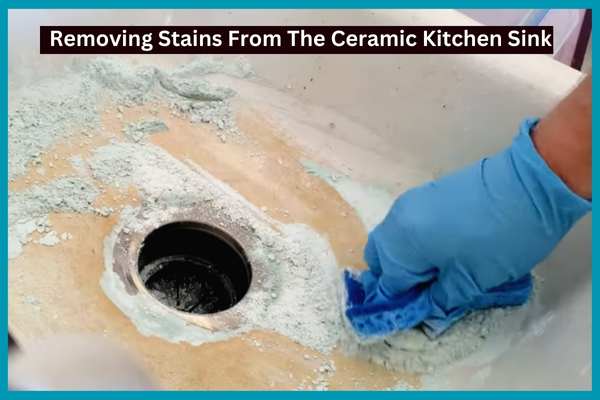 Ceramic sinks are one of the most popular and timeless sink materials used in homes. But after years of use, It's can accumulate stains that can be quite difficult to remove. Fortunately, there are several easy solutions for removing stubborn stains from ceramic sinks.
The first step is to identify what type of stain is present. As this will determine the best way to remove it. For example, dirt and grime build-up can remove with a mixture of baking soda and water while rust spots may require a specialty cleaner or an abrasive scrubbing pad. Grease and oil stains can usually lift with dish soap or other household cleaners such as vinegar or hydrogen peroxide. It's important not to use harsh chemicals like bleach as these could damage the sink surface over time.
Protecting Your Sink From Scratches Or Damages
The kitchen sink is one of the most used and abused items in your home. These are especially vulnerable to scratches, chips, And other types of damage over time. Fortunately, there are several steps you can take to protect your ceramic sink from scratches or damage.
It's important to use a mild detergent. When cleaning the sink so that its glossy finish isn't stripped away by harsh chemicals. Additionally, be sure to only place dishes or utensils in the sink that have been washed off with warm water and soap first. Food particles can cause permanent staining if allowed to build up on the surface of the sink for too long. Try using a plastic cutting board when chopping vegetables or preparing meals. This will help keep knives from coming into contact with the ceramic surface and causing irreparable damage.
Learn how to easily and quickly remove a Moen kitchen faucet with our step-by-step guide. Get the job done in no time and save money on professional plumbing fees!
The Final Thoughts
Cleaning and caring for ceramic sinks in the kitchen takes more than a quick wipe-down. By following the easy steps outlined in this article, You can ensure that your ceramic kitchen sinks remain clean and shiny. With the proper cleaning supplies, You can take on tough stains and keep your sink looking its best. If you're having any problems with your ceramic sink, contact a professional to help resolve them. Taking good care of your sink will keep it looking great for many years to come.