Many people are familiar with the challenge of organizing a galley kitchen. Having limited counter and cabinet space can make it difficult to keep the small area organized and manageable. But, with some careful planning and creative storage solutions. You can turn even the most cluttered of spaces into an efficient and tidy galley kitchen. Although it can be challenging to organize a galley kitchen. It is possible to create an efficient and attractive space that meets your needs. With some thoughtful planning and clever storage solutions. You can make the most of your galley kitchen's layout and maximize its potential.
What is a galley kitchen?
A galley kitchen is a type of kitchen layout that consists of two parallel walls of cabinetry and appliances. It is typically found in smaller spaces, such as apartments or condos, and is designed to maximize efficiency while minimizing wasted space. The two walls are usually separated by a walkway or aisle, allowing for easy access to all the necessary appliances and countertops. This type of layout also allows for efficient use of storage space, as cabinets can place on both sides of the room. Galley kitchens are use in conjunction with an open-plan living area to create a larger overall living space.
Why do you Organize A Galley Kitchen?
Organizing a galley kitchen also helps keep it clutter-free and makes it easier to clean. By having designated areas for different items, you'll be able to quickly identify them. Where everything belongs and make sure that nothing gets left behind or forgotten about. This will help you keep your kitchen looking neat and tidy while also making it easier to find. What you need when you're cooking or baking. It can also help to reduce clutter by providing plenty of storage options along both sides of the galley. With careful planning and thoughtful design, you can create an attractive and functional galley kitchen that meets your needs.
How to make your galley kitchen work for you?
Making your galley kitchen work for you can be a challenge, but with the right strategy. It's possible to make the most of the space. The key is to focus on maximizing storage and creating an efficient workflow.
Look for ways to add more storage. Shelves and cabinets are ideal for this purpose, as they can provide additional space for dishes and ingredients without taking up too much room. If you have the budget, consider installing a pull-out pantry or an island with extra shelving or drawers.
Create an efficient workflow by making sure that all of your appliances are within easy reach of each other. Place items like your microwave and coffee maker close to where you prepare meals so that you don't have to take extra steps when cooking. Additionally, try to keep countertop clutter to a minimum by investing in storage containers or baskets that can help keep your kitchen organized.
Things to consider when working with a galley kitchen
Start by measuring and mapping out the room – this will help you create an effective plan for utilizing the space. It's also important to consider both vertical and horizontal storage solutions so that everything is easily accessible. Adding hanging racks or shelves can provide extra storage without taking up floor space. Keep countertops free from clutter as much as possible, since this will give your kitchen a tidier look and feel. When selecting appliances, opt for slim models that won't take up too much space in your narrow galley kitchen layout.
54 Best Option To Organize A Galley Kitchen
1. Install a Pull-Out Pots and Pans Drawer Organizer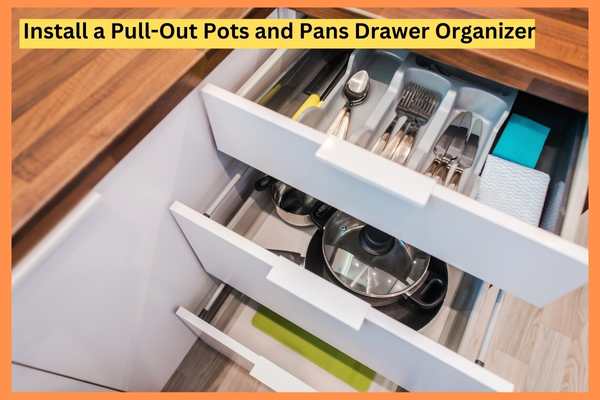 Installing a pull-out pots and pans drawer organizer is the perfect way to organize a galley kitchen. The small size of this type of kitchen can make it difficult to keep items stored and organized. But with the right organizational tools. You can maximize your storage space.
A pull-out drawer organizer is designed specifically for pots and pans, allowing them to store vertically in an easy-to-access location. It's also simple to install and customize to fit your existing cabinet space.
This type of storage solution will provide plenty of storage for all types of cookware, including skillets, saucepans, lids, and more. Plus, they are built with sliding tracks that make it easy to pull out the drawers when needed. You can easily store all your cooking essentials within reach while eliminating clutter from countertops or crowded cabinets.
2. Arrange Baskets High and Low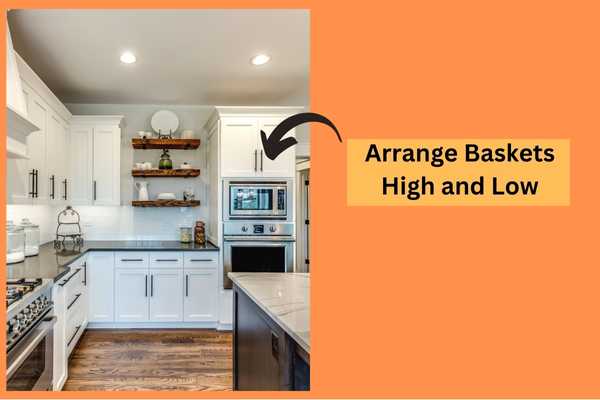 Arranging baskets high and low is a great way to organize a galley kitchen. It can make the most of limited counter and cabinet space. While giving you plenty of options for easy access to items. With just a few simple steps. You can have baskets mounted on the walls or placed on shelves in no time. Decide what types of baskets you would like to use. If your kitchen is already full of smaller items like utensils and spices. Then hanging mesh baskets might be your best choice. For heavier items like canned goods or cookware. Metal wire or woven storage bins are great solutions that can on a shelf or hung from above. Once you've chosen which type will work best for your needs? Measure out the available space and purchase the appropriate sizes accordingly?
3. Design a Wine and Drinks Section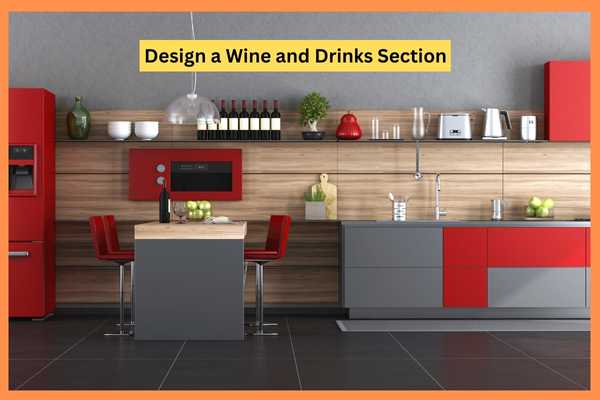 Designing a wine and drinks section can be tricky to fit into a galley kitchen. This area of the kitchen is usually narrow and long, making it difficult to organize properly. A great way to maximize space for this area is by installing wall-mounted shelving units at different heights that are not too deep. This will allow for easy access to the items stored on the shelves as well as give an open. Spacious look to the kitchen. Additionally, adding a dry bar or countertop with built-in storage underneath will provide additional space for bottles and glasses while keeping them out of sight. When not in use. If there's room in the budget. Consider investing in custom cabinetry specifically designed for this purpose and tailored to your specific needs so you get maximum use out of the space available without sacrificing style.
4. Add a Paper Towel Cabinet Inside Your Trash Bin Drawer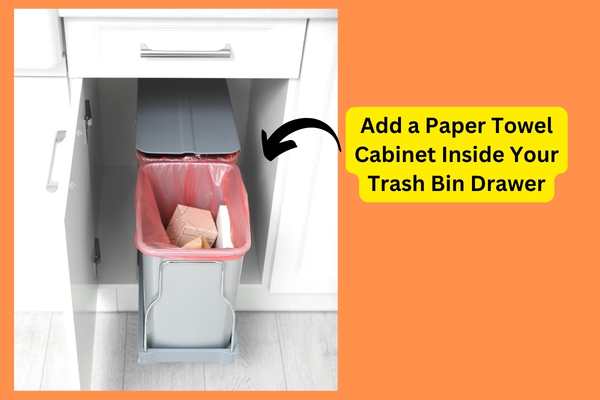 Organizing a galley kitchen can be tricky, but adding a paper towel cabinet inside your trash bin drawer is an easy way to help keep it clutter-free. This clever hack makes the most of vertical space and creates an efficient storage solution that's both practical and aesthetically pleasing. This project takes only minutes to complete and requires no special tools or materials. All you need are some basic supplies such as wood screws, glue, and paint or stain (optional). Start by measuring the inside of your trash bin drawer to determine how much room you have for the new cabinet. Cut pieces of plywood according to those measurements and assemble them into a frame using wood screws and glue.
5. Create a Slide-Out Prep Station
This station allows for compact storage and great accessibility for food preparation. With just a few supplies, you can easily create your own slide-out prep station that will help to maximize your space and declutter your kitchen. The key to successful organization in any galley kitchen is the ability to access items quickly and easily. A slide-out prep station gives you that advantage by allowing you to pull out all of the necessary ingredients while still keeping them neat and organized. By adding drawers or shelves as part of the setup. You can keep frequently used items close at hand while freeing up more cabinet space for other things.
6. Try a Peg Drawer Organizer
Peg drawer of the organization system offers an easy way to maximize storage in the kitchen while keeping items easily within reach. A peg drawer organizer is a set of drawers that utilize pegs, rather than traditional hardware, to keep them securely in place and easy to open and close. Each peg on the drawers can easily adjust up or down which makes it possible to customize the size of each compartment as needed. This allows you to store even more items without taking up precious counter space in your galley kitchen.
7. Add Corner Shelves In A Small Kitchen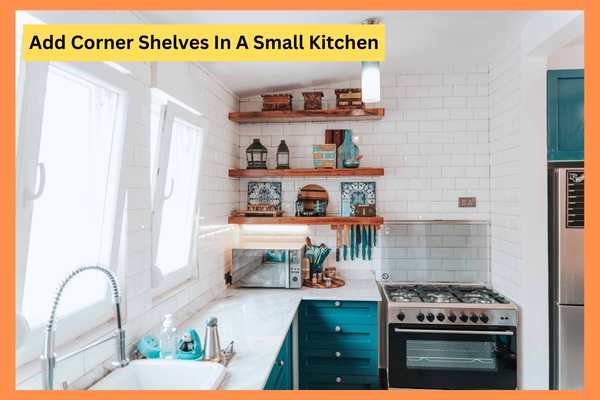 Small kitchens often present a challenge when it comes to storage and organization. Adding corner shelves is a great way to maximize space in a galley kitchen and make the most of the limited storage options. Corner shelves can use to store items that may otherwise clutter up work surfaces or take up valuable cabinet space, such as cookbooks, spices, or even small appliances. Not only are they an efficient use of space but they also allow you to keep your kitchen organized. While adding an aesthetically pleasing touch.
Incorporating corner shelves into your small kitchen design is simple and straightforward. Floating shelves are an easy option for those with minimal DIY experience; all you need are wall anchors, screws, and a drill to secure them in place!
8. Put a K-Cup Organizer in Your Drawer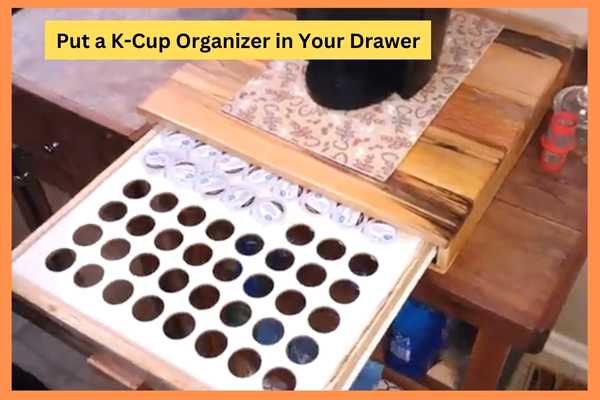 A K-Cup organizer is the perfect way to store coffee cups and other related items neatly in one place. The easy-to-install drawer organizing system allows you to maximize storage space while keeping everything neat and tidy. The K-Cup organizer fits easily into any cabinet or drawer with minimal installation required. It features adjustable shelves that can hold up to 16 K-Cups, giving you plenty of room for all of your favorite flavors and brands of coffee. It also has removable dividers that make it easy to organize different types of items like mugs, tea bags, stirrers, creamers, and more. Plus, its sleek design looks great in any kitchen space!
9. Ditch Countertop Produce Bowls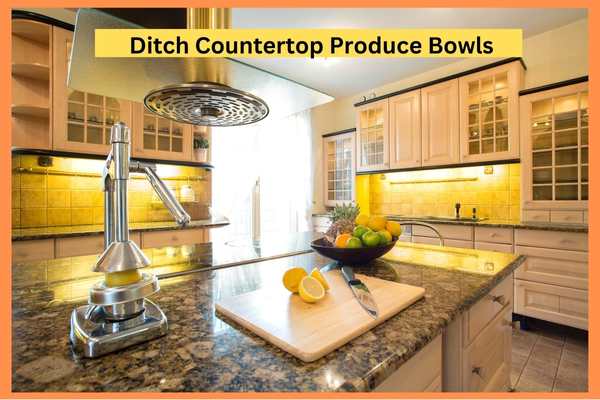 Ditching countertop produce bowls is one way to help. Countertop produce bowls may seem like an attractive option because they're easy to reach and store fruits and vegetables, but they actually create chaos in the kitchen. When placed on the countertop, these pieces of equipment can take up valuable space needed for other items. Not only that, they become cluttered easily since there are no designated places to put everything back. Instead of using a bowl on the countertop, it's better to use drawers or cabinets for storing your produce. Drawers are great because you can organize everything neatly and keep it out of sight when not in use. This will cut down on both clutter and countertop space so you can make more room for other kitchen necessities like pots, pans, appliances
10. Add a Food Storage Container Drawer Organizer
Adding a food storage container drawer organizer to your galley kitchen can be a great way to maximize storage space and organize your kitchen. With the right drawer organizer, you can fit in more items while keeping them organized in an easy-to-access location. The first step is to measure the drawers of your galley kitchen so you can purchase the appropriate size for each drawer. It's best to choose organizers that are made from durable materials such as plastic or metal, as these will last longer and won't warp over time due to moisture. These types of organizers come in various sizes and shapes, so you have plenty of options. When it comes to creating a custom look for your galley kitchen. Organizers also make it easier to find items quickly. Which is perfect for busy cooks who need quick access during meal prep times.
11. Make a Sponge Holder
Making a sponge holder is an easy and effective way to keep your space tidy. Not only will it make sure that your sponges are accessible, but it also adds a decorative touch to the room. With just a few simple materials and tools, you can easily make one at home. Choosing the type of container for your sponge holder. A ceramic dish or bowl is best as it won't get damaged when wet like plastic can. If you want something more colorful and decorative. Look for options with unique patterns or glazes so that it stands out from the rest of your kitchen items. Once you've found the perfect container, use some heavy-duty glue to attach four small suction cups underneath their base so that they're evenly spaced apart.
12. Fill Narrow Spaces
Narrow spaces in the kitchen can be a challenge when organizing, but with just a few changes and clever storage solutions. You can make the most of a galley kitchen. It's important to declutter the space. Go through everything you already have in your kitchen and get rid of anything that is not necessary or used regularly. This will free up some much-needed room for more functional items. Once the space is clear out, you'll able to see what needs to stay and what needs to go. Maximize your wall space by using shelves or hanging organizers for items like spices or utensils that need to stay within easy reach while cooking.
13. Adding color with paint or accents
Whether it's adding paint or accent colors, there are many ways to organize a galley kitchen while injecting some vibrancy into the décor. Paint can use to instantly add brightness and energy to any space. Consider painting walls bold colors such as yellow or blue, or choose an ombre effect for an interesting look. Use contrasting colors on walls and cabinets for a modern touch – think navy blue against white cabinets. Upper walls can also paint with chalkboard paint for added functionality, allowing you to keep track of recipes, grocery lists, or other notes without taking up countertop space. Accents can also bring in much-needed color without overpowering the look of your galley kitchen.
14. Use the Inside of Your Cabinet Doors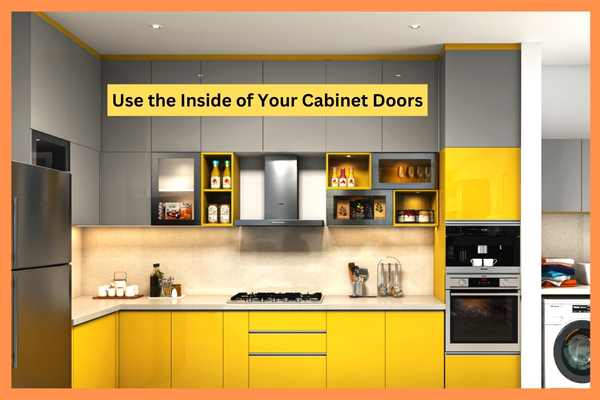 Have you ever considered using the inside of your cabinet doors for extra storage? This innovative solution can help turn your cramped kitchen into the well-organized space of your dreams. Cabinet door organizers are designed to make efficient use of vertical space. Hang hooks from the inside of upper cabinets to store mugs, aprons, and oven mitts out of sight. Alternatively, attach a wire basket or rack to keep cutting boards accessible yet tucked away when not in use. Utilize small shelves or trays on lower cabinets as an ideal spot for cooking utensils like spatulas or whisks.
15. Hang a Side Storage Shelf on Your Fridge
One clever way to do this is by hanging a side storage shelf on your fridge. This shelf can use to store spices, condiments, and other small items that would otherwise clutter up counter space or drawers. Not only does this make reaching for items easier as they are stored in an easily accessible location. But it also makes better use of vertical space which is often overlooked. When trying to organize a galley kitchen. The shelves come in various sizes and materials so there's sure to be something that will fit perfectly on your fridge. The installation process is quick and easy – with no drilling required!
16. Add Floating Bookshelves
Floating bookshelves are a great way to add storage space and organize a galley kitchen. Instead of traditional bulky cabinets, floating shelves provide an attractive look while still providing plenty of storage options. Not only do they look stylish, but they also make it easy to keep everything organized and in order. There are several factors that must be taken into account. These include the size of the space, the style desired, and whether or not you want them to be wall-mounted or freestanding.
17. Build a Bench With a Storage
Building a bench with storage can be an ideal solution to help you maximize space in your galley kitchen. Not only will it provide extra seating and storage. But it can also serve as an accent piece to add style to your interior design. Crafting this bench yourself gives you the opportunity to customize it according to your needs and preferences. You will need some basic materials such as plywood, screws, hinges, paint/stain, and fabric for padding. With step-by-step instructions on how to build a bench with storage for a galley kitchen. You'll be able to create additional storage space while adding charm and style at the same time!
18. Hang a Towel Bar Over the Sink
Organizing a galley kitchen can be tricky, but a few simple solutions can help you maximize the space. One such solution is to hang a towel bar over the sink. Installing a towel bar above the sink will not only add extra storage for dish towels and other small kitchen items. But it also helps to keep your countertops clutter-free.
The installation process for adding a towel rack to your galley kitchen is relatively easy and requires minimal tools. All you need is some basic supplies like screws and wall anchors, as well as an appropriate drill bit for drilling into tile or drywall. Once you have all the necessary materials in place. Simply mark where you would like the towel bar to go and then use the drill bit to create holes for mounting the screws.
19. Get Creative With Shelf Storage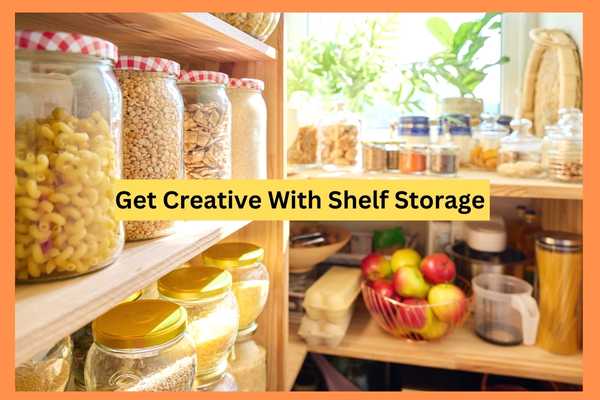 Shelf storage in a galley kitchen allows for easy access to everyday items as well as creates an extra surface area for food preparation. Consider adding shelves above the countertop or along walls that don't have cabinets already installed. You can also utilize vertical space by installing shelves above the stove or refrigerator. This will give you more room to store items such as spices or cooking oils. While still keeping them within reach when needed. Be sure to measure the size of your shelves beforehand in order to make sure they fit properly into the space available.
20. Arrange Utensils on a Pegboard Wall
Arranging utensils on a pegboard wall is an inexpensive and creative way to organize a galley kitchen. Not only can it provide easy access to commonly used items, but also helps keep countertops free of clutter. With the right tools and supplies, you can easily create your own pegboard storage system. Measure the area and buy a pegboard that fits perfectly in the measured space. After cutting any necessary mounting holes into the board, secure it to the wall with mounting hardware for added stability. Once installed, add metal hooks or other accessories designed for pegboards to hang pots, pans, and other kitchen utensils from it.
21. Use Sliding Doors to Conceal the Mess
A great way to conceal mess and make the most of your space is by using sliding doors. Sliding doors can provide an inexpensive solution for hiding away items in a small kitchen. Not only will they help you stay organized. But they also look great and come in all sorts of styles and colors that will fit perfectly with any decor. Installing sliding doors isn't difficult either no need to hire a contractor or carpenter! All you need are some basic tools, like screws and drills, and off you go! The best part is that you don't even have to remove existing cabinetry. If installing new isn't an option just attach the sliding door directly onto it.
22. Make the Most of Your Drawers
Having functional drawers is essential in making the most of your small kitchen. Here are some tips to help organize and keep your drawers organized no matter how small the space may be.
Think about what items you will store in each drawer and set up an organizational system for yourself. Utilizing bins and dividers can help keep smaller items such as utensils and measuring cups from getting lost or scattered throughout the drawer. This can also help create designated areas for dishes or other more bulky items like baking pans or pot lids. Another great way to maximize storage in your drawers is to use vertical drawer organizers to hold even more items like cutting boards, paper towels, or aluminum foil boxes.
23. Try a Tall Pull-Out Pantry Drawer
This type of pantry drawer is also incredibly easy to install and use. The best part about a tall pull-out pantry drawer is how convenient it can be for organizing your kitchen items. You can easily organize spices, canned goods, and other small food items so that they're all within arm's reach. When you need them. The shelves are adjustable. Allowing you to customize the size and height of each shelf in order to fit all of your needs perfectly. Plus, the drawers are designed with an open back so that you never have to worry about reaching deep into corners or cabinets again!
24. Organize Your Pantry Like a Store
Organizing a galley kitchen can daunt task, but with the right strategies, it can be done. Whether you want to create designated zones for different items or use clever storage solutions. There are many ways to make your pantry look like a store-bought space. Here are some tips on how to organize your pantry:
First and foremost, it's important to assess your current pantry setup and determine what needs organizing. Take stock of the items in each shelf and decide if any need to throw away or donate.
Then, begin categorizing them into groups such as baking supplies, canned goods, spices etcetera. Once everything is sorted out, you can start putting things back in an organized manner – for example, having all of the baking supplies together on one shelf and all of the canned goods together on another shelf.
25. Add a Spice Drawer Organizer
Adding a spice drawer organizer is one simple way to make the process easier and more efficient. This type of drawer system is designed to help keep all your spices neatly sorted and easily accessible. Not only does this make cooking simpler, but it helps prevent the accidental misplacement of items in the kitchen.
The first step when installing an organized spice drawer is to measure the inside dimensions of the existing drawers. It's important to use these measurements when choosing which model will fit best for your needs. Once you've selected a model that fits properly in the designated space, installation can begin! The organizers come with easy-to-follow instructions that explain. How to assemble each component and where they should place within the drawer.
26. Alloy Countertop Bowl
Ditching countertop produce bowls can be a great way to free up space in your kitchen and create an organized layout. Not only can it save you from having fruits or vegetables rolling around on your countertops. But it will also help you maintain a cleaner look throughout your kitchen. The best thing about ditching these produce bowls is that there are plenty of ways to store fruits and vegetables without taking up too much room in your pantry. Consider investing in stackable containers or baskets which can easily fit onto shelves or inside drawers. This type of storage solution is perfect for storing items such as apples, potatoes, onions, and other produce items with ease.
27. Design a Bar Area
Creating a bar area to organize your galley kitchen can be an easy way to make the most of a small space. With the right design, you can create an inviting atmosphere that is both functional and stylish.
Plan out where you want your bar area to be located within your kitchen. Consider installing shelves or cupboards along one side of the room in order to maximize storage and counter space. You could also consider adding an island or peninsula if space allows these pieces can act as extra prep surfaces or serve as additional seating for guests. Make sure you measure everything carefully before purchasing any new furniture or cabinetry in order to ensure it will fit!
28. Design a Beverage Nook
Creating a beverage nook to organize your galley kitchen is an easy and effective way to maximize the available space. It's possible to achieve this in a relatively short amount of time with the right planning and tools, along with some creative problem-solving. Whether you're looking for ways to organize coffee, tea, or even beer, here are some tips. How to design a beverage nook that looks great and keeps all your favorite drinks close at hand. Consider how much space you have available will it be enough to fit shelves and storage containers? Make sure that whatever spot you choose is well-lit so that you can easily locate your beverages when needed.
29. Designate a Drawer for Dishes
Designating a drawer for dishes is an ideal way to get started. This will create a designated spot for all of your dishes, making it easy to find what you're looking for. The process doesn't have to be complicated or time-consuming; in fact, the organization of this single drawer can make a major difference in the overall look and feel of organize your galley kitchen. It's important to assess how much room you have available in the drawer and measure any larger items before purchasing. Taking measurements will help ensure that everything fits just right and allows you to coordinate with other elements in the kitchen. With all preliminary steps complete, it's time to begin gathering materials.
30. Divide Kitchen Tools
One of the best ways to maximize space and keep your cooking area organized is by dividing up your kitchen tools into categories. By sorting out everyday items such as utensils, knives, cutting boards, and other frequently used items that need easy access. These should be placed in drawers or easily accessible shelves near your working area. Utilize drawer dividers to keep everything neat and tidy, so you can quickly grab what you need during meal preparation. Longer items like rolling pins and wooden spoons should be hung on wall hooks in order to save counter space.
31. Add Bins to Bottom Drawers
Bins are great for organizing pantry items like condiments, spices, canned goods, and more. They provide instant visibility so you can quickly identify what you need without wasting time rummaging through each drawer. Plus, they come in all shapes and sizes so you can find one that fits perfectly in any drawer size. When grouped together they also create a uniform look that adds texture and style to any room.
32. Add Pot Racks to Your Walls or Inside Your Pantry
Pot racks come in many styles and sizes, allowing you to find one that fits perfectly into the given space. Wall-mounted pot racks are ideal for saving countertop space as well as keeping items within reach. If you don't have wall space, consider adding a hanging pot rack from the ceiling instead, or even inside your pantry for extra storage solutions. Adding a pot rack is an inexpensive way to maximize and organize the use of your galley kitchen limited space while also creating an aesthetically pleasing look with minimal effort required!
33. Add a Refrigerator Egg Drawer
Organize a galley kitchen can be challenging due to its limited space. An easy way to maximize the organize in your galley kitchen is by adding a refrigerator egg drawer. This addition will help keep your eggs safe and organized.
With this drawer, you'll have quick access to the eggs without having to search through the entire refrigerator for them. Not only is it convenient, but also helps create more space for other items in the fridge.
The egg drawer also prevents the breakage of eggs if accidentally dropped from regular shelves and reduces contamination from raw meat or produce stored nearby in other compartments. This additional storage allows you to easily store any type of egg from quail to large white eggs all in one place and easily accessible when needed.
34. Add Drawers to Deep Cabinets
Adding drawers to your kitchen cabinets is relatively easy and straightforward. First, measure the interior depths of your cabinets to determine how many shelves or dividers you need for storage. Then select appropriate drawer slides that can support the weight of whatever items you are storing inside them. Depending on what size drawer slides you have chosen, cut plywood planks to create an adjustable unit that fits within your cabinet's width and depth measurements. Attach the slides onto the sides of the plank before mounting it into place with screws or nails.
35. Add a Built-in Storage Block
A built-in storage block is most effective when installed between two existing cabinets. By doing this, it creates additional countertop space which can be used as a food preparation area or for appliance placement. It also provides great organization opportunities by keeping frequently used items organized and within easy access when cooking meals or cleaning up afterward. In addition, this type of storage block adds visual appeal to the overall design of organize any galley kitchen and makes it easier to maintain a clutter-free environment due to its organizational capabilities.
36. Attach a Spice Rack to Your Walls
One smart way to organize a galley kitchen is to attach a spice rack directly to your wall. This will free up valuable countertop or cupboard space while keeping all of your spices within easy reach. Spice racks come in a range of styles, from ornate metal designs that mount directly onto the wall, to simple wooden units with several shelves for holding bottles or jars of spices. Many are designed for easy installation on any type of wall surface, including drywall and concrete block walls. With built-in compartments for individual spice bottles and containers, you can easily separate herbs and spices for quick identification each time you cook.
37. Use Inserts to Maximize Space
One of the best techniques for maximizing storage in organize a galley kitchen is using inserts. These inserts are perfect for filling awkward gaps or corners within the cabinetry. They come in various shapes, sizes, materials and styles so you can find one that perfectly fits your needs. Drawer organizers provide an easy way to keep items organized within drawers while shelf dividers help separate large shelves into smaller compartments for better organization. Door-mounted racks offer additional storage above cabinets or on pantry doors as well as places to store utensils like silverware or cooking utensils.
38. Utilize Your Island's Storage
This type of kitchen has limited counter space and cabinet room, so having an island in the middle can give you an extra area to keep items out of sight. An island is also a great way to make sure all your cooking needs are within reach while entertainin. If you have pots and pans, consider adding shelves or drawers on either side of the island for easy access. If your kitchen is equipped with a sink then take advantage of the space underneath by having shelves or drawers beneath it for convenient storage. You could also install pull-out baskets below for quick access to everyday items such as utensils and spices.
39. Add A Convenient Coffee Bar
Creating a convenient coffee bar in your galley kitchen can be an efficient way to organize your kitchen. Not only will it save space and provide a place for all of your favorite coffee supplies, but it will also allow you to brew the perfect cup of coffee quickly and easily. Having a designated area to store your coffee-making items can make the morning routine less hectic and more enjoyable.
When setting up a coffee bar in a galley kitchen, look for places where you can hang shelves or hooks to keep things off the countertop. Don't forget about storage under the sink or other cabinets that could be used for mugs, filters, travel mugs and even beans if you have enough room. If space is limited, try adding wall-mounted shelves or baskets above the countertop to hold items like cups and lids.
40. Install a Charging Drawer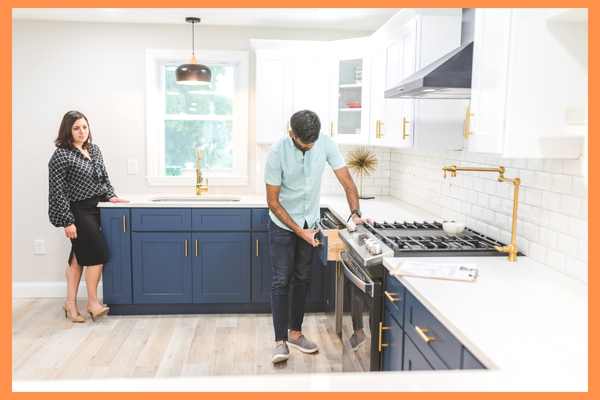 Installing a charging drawer is an easy way to keep your galley kitchen organize and clutter-free. Not only does it provide you with extra space, but it also allows you to keep all your electronics in one spot so they are always ready to use. It should be close to a power outlet and easily accessible while still out of sight when not in use. Consider adding dividers or organizers inside the drawer as well in order to maximize its usefulness and prevent items from getting lost or tangled in cords. Additionally, add labels if needed so that everyone can easily find what they need without having to search through all the cords and devices.
41. Try a Tray Organizing Drawer
The tray drawer works by creating specific compartments for each item in your kitchen. Each section can be used to store items such as cutlery, utensils, or even food items like spices or condiments. The best part is that everything is neatly stored away in one place with no need for separate containers. This also makes it easy to find what you need while cooking without having to rummage through drawers and cupboards looking for small items.
42. Store Pots and Pans on Sliding Shelves
Organizing a galley kitchen can be a daunting task. With limited counter and cabinet space, it's important to find ways to maximize the space available. One efficient way to do this is by installing sliding shelves in your kitchen cabinets that are specifically designed for storing pots and pans.
Sliding shelves can help you keep all of your cookware organized and easily accessible. You won't have to worry about having too many bulky items crammed together in one spot; instead, you can make use of the vertical or horizontal space available in order to separate and store your items neatly. Plus, with these pull-out shelves you don't have to spend time reaching deep into your cabinets as everything will be within arm's reach when needed.
43. Install Bracketed Shelves
Bracketed shelves are easy to install and provide extra storage for items such as cookware, dishware, food items, and spices. They are also great for displaying decorative pieces or creating an eye-catching focal point within the room. When installing bracketed shelves in a galley kitchen, make sure that the brackets are securely attached to the walls so they will not come loose with heavy use. Also consider how high or low you want them to sit on the wall depending on what kind of items will be stored there – pots and pans may require more clearance than light dishes or spices.
44. Create a Command Station
A command station is a designated area within the kitchen where all your cooking needs are stored in an orderly fashion. This allows for quick access when preparing meals and eliminates unnecessary trips back and forth across the room to find what you need. The most important items, such as knives, cutting boards, spices, pots, And pans should all be kept close together near the stove or countertop so they are easy to grab when needed. Utilize shelves or wall-mounted racks to store additional items like recipe books or cookware out of sight but still within reach.
45. Mount a Double-Duty Shelf
Mounting a double-duty shelf in your galley kitchen is an easy and cost-effective way to maximize storage space without taking up too much room. If you're looking for ways to de-clutter and organize your galley kitchen, mounting a shelf is the perfect solution. Not only can it use to store food items or other items, but it also provides additional countertop space that can be utilized for meal prep and cooking.
The first step in this project is to decide where the shelf will go – consider how far away it needs to be from the stovetop or sink in order to safely store dishes or cookware. Measure the area where you plan on installing the shelf and make sure there is enough clearance between it and any nearby surfaces.
46. Look Above Your Range
Organizing a galley kitchen may seem like an overwhelming task, but look above your range for simple tricks to make the most of your space. With limited room and storage in a galley kitchen, it's important to be creative when organizing.
Utilize wall space above the range to keep countertops tidy and clutter-free. Start by adding shelves and hanging racks for easy access to dishes, spices, and cooking utensils. Add hooks or even magnetic strips on the walls to store knives, pots, and pans as well as aprons or tea towels.
Even if you don't have open shelving, use baskets or jars that can fit on top of the stove or install closed cabinets with doors that can be easily opened with a pull handle. Don't forget about decorating too!
47. Add Wall-Mounted Bar Shelf
Installing a wall-mounted bar shelf can help bring some much-needed order and organization to the space, while also adding a decorative element. The bar shelf is usually mounted along one wall of the kitchen and provides additional storage for glasses, bottles, cookbooks or other items you may need for meal preparation. It's easy to install using basic tools and can be made from either metal or wood depending on your preferences. Not only does it provide extra storage in an otherwise tight space but it gives your kitchen a whole new look with minimal effort!
48. Keep A Large Bowl For Spices
One way to maximize space and keep everything organized is to install a large bowl of spices. This eye-catching piece of kitchenware provides the perfect place to store all of your favorite herbs and seasonings, keeping them neat and tidy in one spot. Not only does this help with organization, but it also adds visual interest to the room.
This type of bowl can come in a variety of shapes and sizes, giving you plenty of options when choosing one that fits your kitchen's look best. Whether it's made from ceramic or wicker – there is something that will fit every style preference. You can also purchase multiple bowls in complementary colors if desired or find ones with an interesting pattern on them for added vibrancy in the room.
49. Fill up Clear Canisters
Using clear canisters helps you store items like grains, nuts, and other dry goods in an orderly fashion. When everything is labeled correctly and neatly tucked away in individual containers, it becomes easier to find what you need without having to rummage through cupboards or drawers. Plus, these clear containers help keep your counters free from clutter which will make for a more enjoyable cooking experience. Clear canisters also come in different sizes so that you're able to maximize storage capacity within your galley kitchen space.
50. Store Pans Sideways
Effective way to maximize the space in your kitchen is to store pans sideways. This simple trick allows you to utilize vertical storage in order to fit more items into a small area while also keeping them easily accessible. By storing pans sideways, you can use two shelves instead of one for larger items like trays or pizza stones. This strategy helps make sure the most used items are always within reach and that everything has its place. Many cookware sets come with lids that fit snugly on the side, making this technique even easier to incorporate into your cooking routine. The added benefit is that you don't need extra racks or stands taking up counter space; simply slide the pan onto an available shelf and voila!
51. Add Stack Baskets up High
Stackable baskets are a great option for storage needs in galley kitchens as they take up minimal floor space and add unique texture and color to the area. The best part is that these baskets come in all shapes, sizes, colors, and materials so there's something for every style or budget. Additionally, they provide easy access to frequently used items like cookbooks or spices without compromising on countertop space or having an item take up valuable real estate on the kitchen counter.
52. Turn One Shelf Into Two
Organizing a galley kitchen can be tricky business. It is often small and cramped, making it difficult to find space for all the essentials. However, with a few clever tricks, homeowners can maximize their available storage space and make the most of their galley kitchen. One way to do this is by turning one shelf into two.
This technique involves strategically arranging the items in your cupboard so that you can fit twice as many on one shelf. Start by grouping similar items together and placing them on the shelves accordingly.
For example, keep all spices together or store canned goods in one area. Additionally, use stackable containers to further increase your storage capacity while keeping everything organized at a glance. Place heavier items such as large pots and pans on the lowest shelf and lighter items such as plates up top.
53. Choose an Open Island
Open island is the perfect solution for creating more storage and counter space. With an open island, you can maximize the amount of usable space in your kitchen without having to compromise on style or comfort.
An open island is a great way to make use of extra space in a small kitchen. It's also an excellent option for adding both seating and storage options. A wide selection of materials and design styles are available so you can find one that perfectly suits your needs and fits into your budget. Open islands come in various sizes, shapes, colors, and materials to match any decorating style while providing plenty of function at the same time. Plus, they are easy to install with basic DIY skills—no need for professional help!
54. Expandable Countertop Rack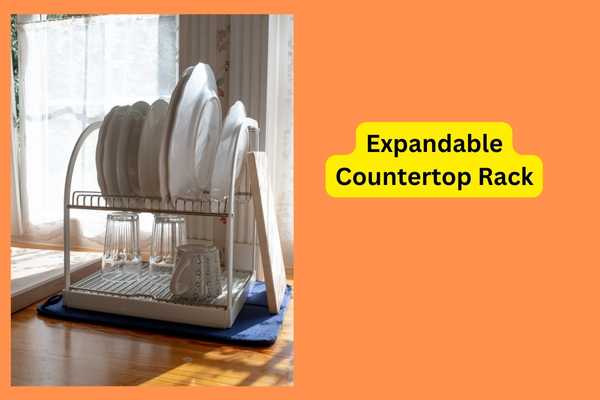 The Expandable Countertop Rack is an ideal tool for making the most of limited counter space in a galley kitchen. This versatile rack can be adjusted to fit any size countertop and has five removable shelves for convenient storage. With its expandable design, the rack adjusts from 21″ to 33″ wide with just one simple adjustment, giving you maximum flexibility for organizing your kitchen items. The strong construction supports up to 30 pounds per shelf, so you can store heavier items without worry. It also features non-slip rubber feet that protect your counters from scratches or damage while providing stability and security when the rack is loaded up with cookware or other items.
Consider Lighting Before You Start Designing
Designing a galley kitchen can be an intimidating task, but with the right lighting, it's easier than ever to make your dream kitchen come to life. Poor lighting can easily frustrate you as you try to organize and design around the limited space.
That's why proper planning and attention to detail are so important. Before you get started on your next project, consider how good lighting will help bring out the best in your galley kitchen.
Good lighting makes all the difference when it comes to designing a galley kitchen. You'll want to select lights that are bright enough for both cooking and prep work; however, you also must ensure they don't overpower or interfere with other elements of the room.
Properly placed light fixtures should provide general illumination while still allowing some accent pieces such as artwork or plants to stand out.
Maximize your Counter Space by Using Items that Can be Used as Both Decoration and Function
Maximizing counter space in any kitchen is key, but especially in a galley kitchen. If you have limited counter space, you need to find ways to make every inch count. Utilizing items that offer both decoration and function can help you get the most out of your galley kitchen and make it look great too.
Hang racks or shelves above the counters for added storage. This helps keep clutter off the counters while giving you access to everyday items like plates and bowls. It also gives an opportunity for decorative items such as plants or art pieces that can bring cheer into this small space.
Plus, if knowing where things are is important when it comes to cooking, hanging racks or shelves in plain sight will help ensure everything has its place.
Discover the best way to clean kitchen cabinet hardware and keep your cabinets looking new! Learn tips, tricks, and the best cleaning solutions for all kinds of hardware.
The Final Thoughts
Organizing a galley kitchen can be an overwhelming task. However, with the right planning and creativity, it is possible to make the most of this unique kitchen layout. By incorporating smart storage solutions, utilizing wall space for cabinets and shelves, and adding decorative elements such as curtains or rugs, you can turn a cramped galley kitchen into a modern and stylish room. Don't forget to take measurements before purchasing any items for your new kitchen organization.