Serve Brie on a cheese board is a delightful culinary experience, perfect for entertaining guests or savoring a special moment. Brie, a creamy and mild cheese with a velvety texture, can be the centerpiece of your cheeses board, enhancing the flavors and textures of the entire spread. In this guide, we will explore the art of serving Brielle on a cheese board, from selecting the right accompaniments to achieving the ideal temperature and texture. Let's embark on a journey to create a beautiful and flavorful cheese board with Brie as the star.
What Is Brie Cheese?
Brie cheese is a soft, creamy, and mild French cheese known for its pale, edible rind and buttery texture. It is made from cow's milk and typically features a white, velvety exterior with a rich, creamy interior. Brielle is popular for its delicate, slightly nutty flavor and is often enjoyed on its own, with crackers, or as a versatile ingredient in various culinary dishes, making it a beloved choice in the world of gourmet cheeses.
How Long Should Brie Sit Out Before Serving?
To serve Brie at its best, let it sit out at room temperature for approximately 30 minutes to an hour before serving. This allows the cheeses to soften and become more spreadable, enhancing its creamy texture and flavor. You can leave the Brielle unwrapped or cover it loosely, and be sure to check its readiness for the desired texture. Serving Brielle with accompaniments like fresh fruit, crackers, bread, and nuts can further enhance the experience. The specific time may vary based on factors like room temperature and the cheeses size, so it's a good practice to monitor it for optimal serving consistency.
What Temperature Is Ideal For Serving Brie?
The ideal temperature for serving Brie is at room temperature, typically around 68-72°F (20-22°C). Serving Brielle at this temperature allows it to reach its best texture and flavor. When Brie is too cold, its flavors are muted, and the texture can be firmer, making it less creamy and less enjoyable. On the other hand, if it's too warm, it might become overly soft and runny. Allowing it to sit out at room temperature for about 30 minutes to 1 hour before serving helps achieve the perfect balance, making the cheese soft, creamy, and flavorful.
Choosing The Right Brie For Your Cheese Board
When choosing the ideal Brie for your cheese board, prioritize a Brielle with a creamy, slightly runny texture, ensuring it's ripe without being overly so. Explore different Brielle varieties, taking into account factors like size and flavor intensity. Consider how well your chosen Brie complements the wine and accompaniments you plan to serve. An eye-catching presentation, with an attractive white rind, can elevate your cheddar board's visual appeal. Remember to create a well-balanced selection by including a variety of cheese textures and flavors to cater to your guests' preferences.
Serve Brie On A Cheese Board
1. Pairing Brie With Accompaniments
Brie's mild, creamy flavor pairs beautifully with a variety of accompaniments. Consider fresh fruits like grapes, apple slices, or figs for a burst of sweetness. Add texture and contrast with crackers, baguette slices, or bread. Honey or fruit preserves can provide a touch of sweetness, and nuts like almonds or walnuts bring a delightful crunch. You can also include pickles or olives for a savory balance.
2. Preparing The Cheese Board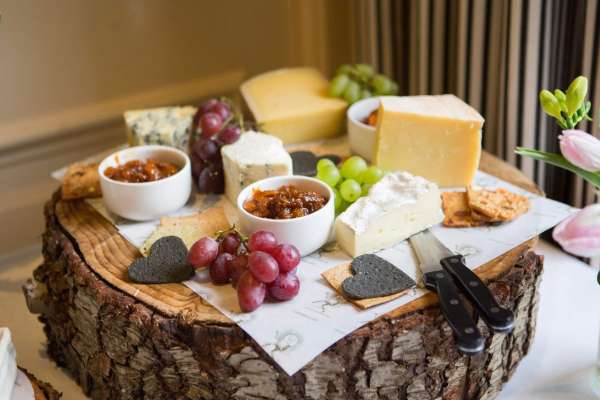 The choice of your serving platter or board can add style to your presentation. Wooden boards, slate, or decorative trays work well. Ensure it's clean and dry to provide a clean canvas for your culinary art.
3. Arranging Brie On The Cheese Board
Place the Brielle as the centerpiece of your cheese board. You can present it as a whole wheel or cut it into wedges for easy serving. Position it in a way that makes it visually appealing and easily accessible. Leave some space around it for other cheeses and accompaniments.
4. Garnishing With Fruits And Nuts
Arrange the fresh fruits and nuts around the Brie. This not only adds to the visual appeal but also provides a variety of textures and flavors. Consider adding some fresh herbs like rosemary for an aromatic touch.
5. The Art Of Serving Brie
Brie should be served at room temperature to bring out its creamy texture and flavor. Plan ahead and take it out of the refrigerator 30 minutes to an hour before your guests arrive to allow it to reach the perfect serving temperature.
6. Temperature And Texture Of Brie
When served, the Brielle should be soft and creamy near the rind but slightly firmer in the center. Avoid serving it too cold, as this can mute the flavors, or too warm, as it may become overly runny.
7. Cheese Knives And Tools
Provide a set of cheese knives or utensils suitable for the cheeses on your board. Each cheeses may require a different type of knife. For Brielle, a cheddar knife with a wide, flat blade or a traditional butter knife works well for easy spreading.
8. Wine And Brie Pairings
Brie pairs wonderfully with wine. Consider offering a light, crisp white wine like Chardonnay or Sauvignon Blanc for a refreshing combination. If you prefer red wine, go for a fruity Pinot Noir. Providing these wine options allows your guests to choose their preferred pairing.
Common Mistakes To Avoid
Serving Brie Too Cold: One common mistake is serving Brielle straight from the refrigerator. Brielle should be served at room temperature to allow its flavors and textures to shine.
Overcrowding the Board: Don't overcrowd your cheddar board. Leave enough space between cheeses and accompaniments to make it visually appealing and easy for guests to serve themselves.
Neglecting Cheese Variety: Don't focus solely on Brielle. A well-balanced cheeses boards includes a variety of textures and flavors, from soft to hard cheeses and different milk types.
Improper Cheese Cutting: Use the right knife or utensil for each cheddar. For Brielle, a cheese knife or butter knife works well for spreading. Avoid using a single knife for all cheeses to prevent flavor mixing.
Inadequate Accompaniments: Make sure you have a variety of accompaniments like fresh fruits, nuts, and crackers to provide texture and flavor contrasts.
Maintaining Your Cheese Board
To maintain your cheese board in optimal condition, it's essential to prioritize regular cleaning and thorough drying after each use. Using warm, soapy water, clean the board, and take care not to submerge wooden boards in water, as this can lead to warping. For wooden boards, periodic seasoning with mineral oil or a food-safe wood conditioner is recommended to prevent drying and cracking. Proper maintenance ensures your cheese boards remains not only clean but also durable and ready to elevate your future cheese presentations.
Brie Storage Tips
Proper Brie storage is crucial to preserve its flavor and texture. To keep Brie fresh, store it in the refrigerator at a temperature between 38-42°F (3-6°C). The original packaging helps maintain the right humidity levels, so keep the Brielle in it if possible. If the packaging is compromised or you've cut into the cheeses, wrap the exposed portion in wax paper or plastic wrap, ensuring it's airtight to prevent moisture loss and the absorption of external odors. Cheeses paper, designed to allow the cheddar to breathe while protecting it, can be used as well. Keep Brielle separate from strong-smelling foods in the fridge to avoid flavor contamination, and always label it with the date of purchase for tracking freshness.
What Tools Are Essential For Serving Brie?
When serving Brie, it's essential to have the right tools at your disposal. A cheese knife is indispensable, with its specialized design that allows for easy cutting and serving of the soft cheese without sticking. Additionally, a cheddar board or platter provides an elegant and functional backdrop for presenting your Brie and accompaniments. You may also want to include a butter knife for spreading the creamy Brielle onto crackers or bread. To preserve any leftover Brielle, consider using cheddar paper or wax paper, which allows the cheese to breathe while protecting it from drying out. Don't forget to label the wrapped Brielle with the purchase date to ensure you can track its freshness and quality over time. These tools not only make serving Brielle a breeze but also help maintain its flavor and texture for an extended period.
How Do You Keep Brie Cheese Fresh
Original Packaging: If your Brie came in a special cheese wrap or container, keep it in the original packaging. It's designed to maintain the right humidity levels for the cheese.
Refrigeration: Store Brie in the refrigerator at a temperature between 38-42°F (3-6°C). Make sure your storage area is free from strong-smelling foods to prevent flavor absorption.
Airtight Wrapping: If the original packaging is compromised or you've cut into the Brie, wrap the exposed portion in wax paper or plastic wrap, ensuring it's airtight. This prevents moisture loss and the absorption of external odors.
Cheese Paper: Cheese paper is specially designed for storing cheddar. It allows the cheese to breathe while keeping it protected. If you don't have cheese paper, wax paper or parchment paper can be use as an alternative.
Labeling: Always label the wrapped Brielle with the purchase date. This helps you track its freshness and avoid accidentally consuming older cheddar.
The Final Thought
Serving Brie on a cheese board is an art that combines aesthetics and gastronomy. By pairing Brie with the right accompaniments, arranging it thoughtfully on cheese boards, and garnishing with fruits and nuts, you can create a visually appealing and palate-pleasing masterpiece. The key to success lies in understanding the temperature and texture of Brie, selecting appropriate cheddar knives and tools, and choosing wine pairings that enhance the overall experience. Whether for a casual gathering or an elegant event, serving Brielle on a cheese board elevates the enjoyment of this beloved cheddar and creates memorable moments with friends and family.